PET imaging has shown for the first time that multiple shocks from implantable cardioverter defibrillators (ICDs) can result in subcutaneous tissue burns, according to a report published May 18 in HeartRhythm Case Reports.
A team at Baylor Scott and White Medical Center in Temple, TX, presented a case of a 22-year-old man hospitalized after reporting 15 shocks from an ICD. First and second-degree burns can be a common side effect of external electrical therapy, such as cardioversion or defibrillation, the authors noted.
"However, skin and subcutaneous tissue burns or injury due to ICD shocks have never been reported," wrote internist Dr. Christopher Perez and colleagues.
In this case, the patient had a history of myocarditis, ventricular fibrillation, and prior out-of-hospital cardiac arrest. He reported being in good health since the device was implanted. He was admitted after reporting multiple ICD shocks after intense exercise, with the device having recorded an abnormal heart rhythm of 300 beats per minute. He also reported nonadherence to the antiarrhythmic drug sotalol.
An ultrasound of the chest showed no evidence of fluid collection or soft tissue abnormalities; an echocardiogram showed normal heart function; and a CT scan did not reveal features of sarcoidosis or other interstitial lung disease. In addition, a cardiac MRI showed nonspecific left ventricular wall thinning suggestive of infarct versus a previous infectious or inflammatory process.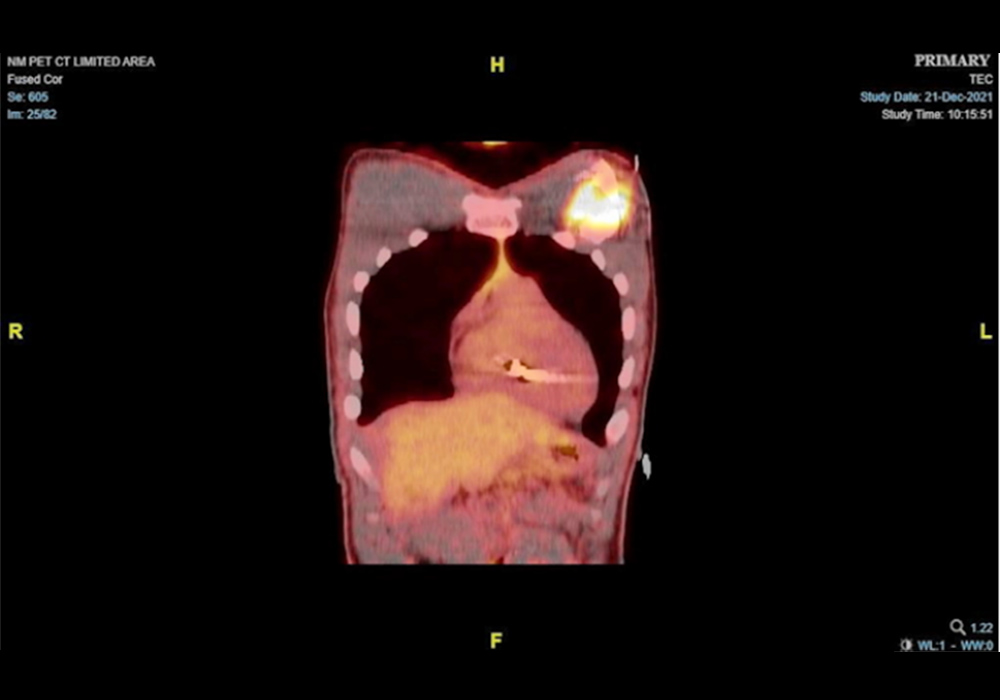 A PET/CT image demonstrating evidence of increased FDG activity posterior to the cardiac conduction device along the anterior left pectoralis major muscle related to inflammation. Image and caption courtesy of HeartRhythm Case Reports through CC BY 4.0.
Finally, to complete the evaluation of possible cardiac sarcoidosis, a PET/CT scan was obtained, which showed no increased F-18 FDG radiotracer activity in the myocardium suggestive of the condition, the authors wrote.

"Incidentally, there was increased FDG activity posterior to the ICD along the anterior left pectoralis major muscle related to inflammation from multiple ICD shocks," they wrote.
Ultimately, the patient's episode of ventricular tachycardia was thought to be scar-mediated. Sotalol was resumed on discharge and the patient was referred for catheter-based ablation, they wrote.
Of patients who have an ICD implanted, approximately one-third will have an appropriate shock while another one-third will experience an inappropriate shock, the doctors noted.
Thus, given the potential long-term consequences of soft-tissue injury, such as chronic pain or functional impairment, it is important that further research be conducted in this area to better understand the impact of ICD shocks on soft-tissue structures, the group concluded.